Modernize Your Windows

with Our Trendy Zebra Shades Solutions in NYC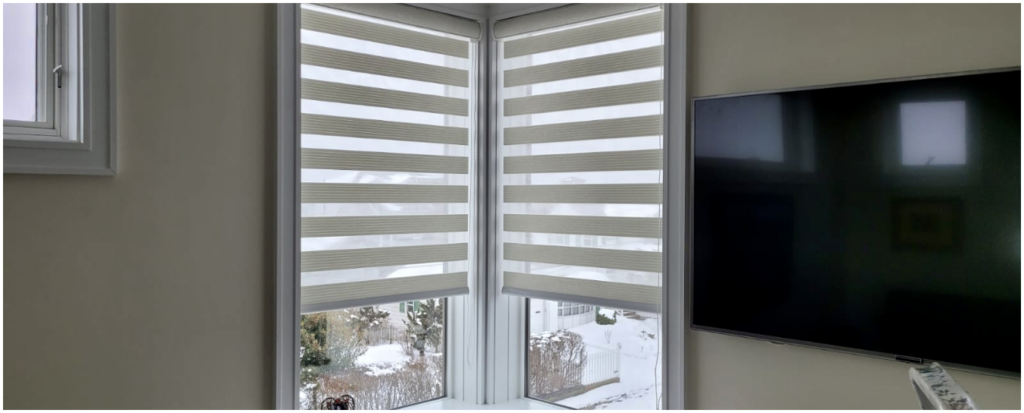 Zebra shades are often called layered shades. They combine the features of roller shades and horizontal blinds. Zebra Shades consist of alternating sheer and solid fabric panels that can be adjusted to control light and privacy. Its one layer consists of translucent fabric panels, while the other layer consists of opaque or semi-opaque fabric panels. You can align these layers to create different levels of light filtration and privacy. When the panels overlap, the shades block out light. They can be operated via a continuous cord loop or a motorized system. Zebra shades can be a practical choice for controlling light, maintaining privacy, and enhancing the aesthetics of your windows.
Need zebra shades Installation in NYC? Call us now.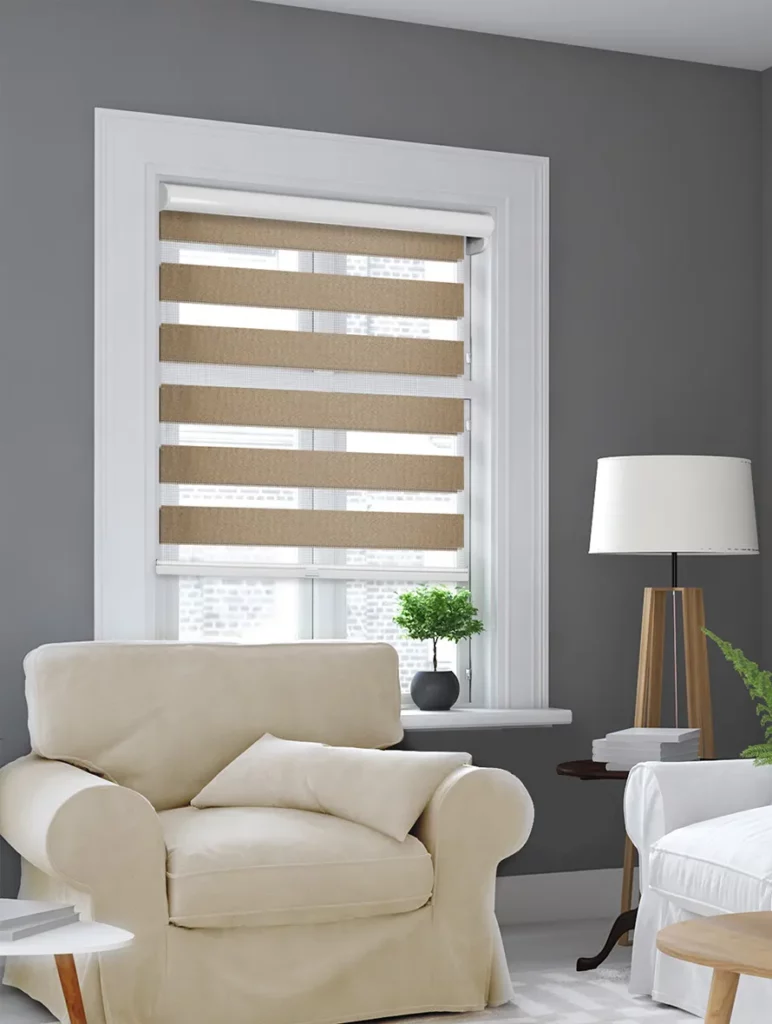 Functionality &

Purpose Of Zebra Shades
For professional zebra shade installation, give us a call.
Roman Blind Installation Company in NYC
Why Choose Manhattan Shades for Zebra Shades Instalaltion in NYC?
Roman Blind Installation Services in NYC
The Value of Sheer

Shades in the NYC
New York City is known for its tall buildings and abundant natural light. Zebra shades allow residents to effectively manage the influx of sunlight, minimizing glare and maintaining a comfortable indoor environment. They are crucial for apartments or offices with large windows that face the sun. With the closeness of buildings and busy streets, privacy can concern New Yorkers. Zebra shades allow you to control privacy levels while enjoying natural light.
Living in a vibrant city like New York often means dealing with constant street noise. Zebra shades, with their dual-layered fabric panels, can provide an additional barrier against noise. They are available in a range of colors, patterns, and textures, allowing you to enhance the aesthetics of your home or office. Zebra shades also have light-filtering ability, which can help reduce the dependence on artificial lighting during the day. It results in lowering electricity costs.
For professional zebra shade installation needs in NYC, call our professionals.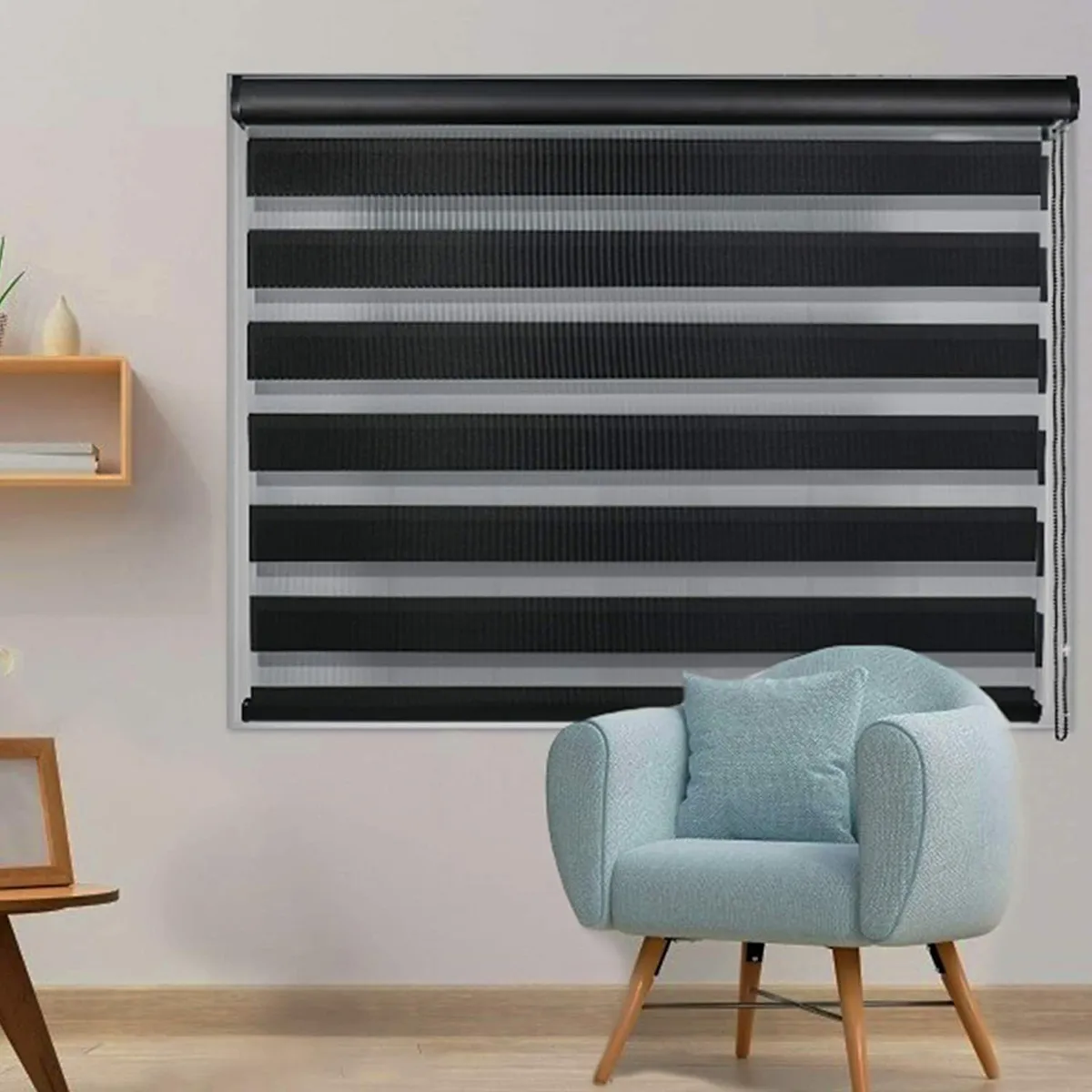 Professional Zebra Shades Installation in NYC
Are you looking to transform your windows with modern elegance and practical functionality? You've come to the right place. Manhattan Shades's expert installers bring the beauty and convenience of zebra shades to your home or office in NYC. From trendy Manhattan lofts to cozy Brooklyn brownstones, we've got you covered with our unmatched expertise. It is time for the perfect balance of style, light control, and privacy with our zebra shades installation service in NYC.
Upgrade Your Windows with

Our Zebra Shades

in NYC?
"Request a Free Consultation Now"
Ready to elevate your windows with our zebra shades Installation? Don't wait any longer! Contact our expert team at Manhattan Shades today and get a quote for your zebra shades installation in the vibrant city of NYC. Experience the difference of our exceptional service with our stunning zebra shades solutions in NYC.
Can zebra shades be customized to fit my windows?
Our zebra shades installation service in NYC offers customized solutions to your window dimensions and requirements, ensuring a perfect fit for your space.
Are zebra shades easy to operate?
Zebra shades are designed for ease of use. They can be operated manually using a continuous cord loop or through a motorized system.
Are zebra shades suitable for rooms with high humidity, such as bathrooms or kitchens?
Zebra shades can be installed in rooms with high humidity. It is advisable to choose moisture-resistant materials to ensure their longevity and durability in such environments.
What is the warranty on zebra shades installation?
We offer a warranty on our zebra shades installation service in NYC, ensuring that any installation-related issues will be quickly addressed within the specified warranty period.