Transform Your Daily Life with Motorized Shades in NYC
Convenient and Smart Window Solution
Motorized shades are the smart way to make your routine life a bit more convenient. Use a remote control for opening and closing the blinds.
Manhattan Shades is a professional motorized shades selling and installation company in NYC. Our shades are of top quality, and the best thing is; we offer a free measuring and installation service with each of our products. Sounds Great?
So, what are you waiting for? Call us and choose your desired motorized shades and bring your life to ease.
Benefits of
Installing Motorized Shades
Motorized Shades comes with a lot of benefits, Including:
If you have made up your mind about motorized shades installation in NYC, just give us a call and leave the rest to us. Our expert shades installers in NYC will come to your place and do the rest.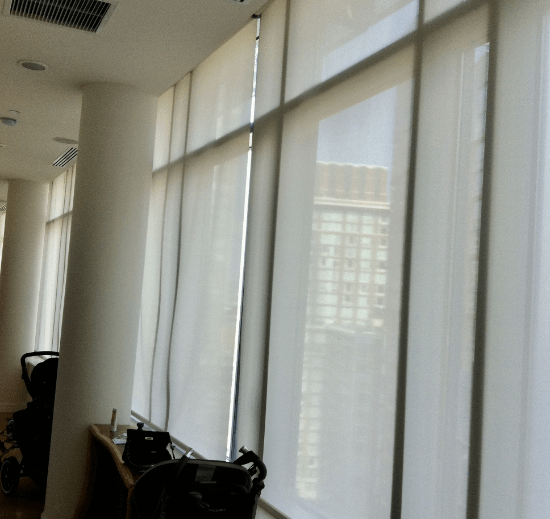 Roman Blind Installation Company in NYC
Why Choose Manhattan Shades for Motorized Shades Installation in NYC?
Motorized shades NYC are undoubtedly a convenient choice, but the electronic blinds from Manhattan Shades are a strong choice. We have been selling and installing motorized blinds for over a decade. We have a whole range of shades and blinds with unique patterns and colors to choose from. This window treatment offers full control of light in the home. Our motorized shades protect your home from harsh sunlight and give you a peaceful sleep even in daylight. You can choose our motorized blackout shades depending on your choice. It is a modern solution for protecting your home from dust and light and adding convenience and modern touch to your home.
Call us today and install elegant motorized shades in your NYC property.
Roman Blind Installation Services in NYC
Expert Installation and Service:

Trust in Our Professionals for Your Motorized Blinds Installation in NYC
At Manhattan Shades, we take pride in providing high-quality motorized blinds and expert installation services. When it comes to window transformation, it's essential to trust professionals with the knowledge, experience, and expertise of flawless installation.
Our skilled team of technicians knows the intricacies of properly installing motorized blinds; They take accurate measurements to ensure the best fitting for your windows. With our expertise, you can rest assured that your window treatment is in the best hands.
During our installation process, we handle everything with precision. From mounting the electric blinds to setting up the control system, our team ensures everything is well-aligned and properly functioning.
Our services do not end up on installation. We also offer support and maintenance to ensure your blinds are working fine. So, take your phone up and give us a call. Choose your desired blinds and get a free installation from our experts in NYC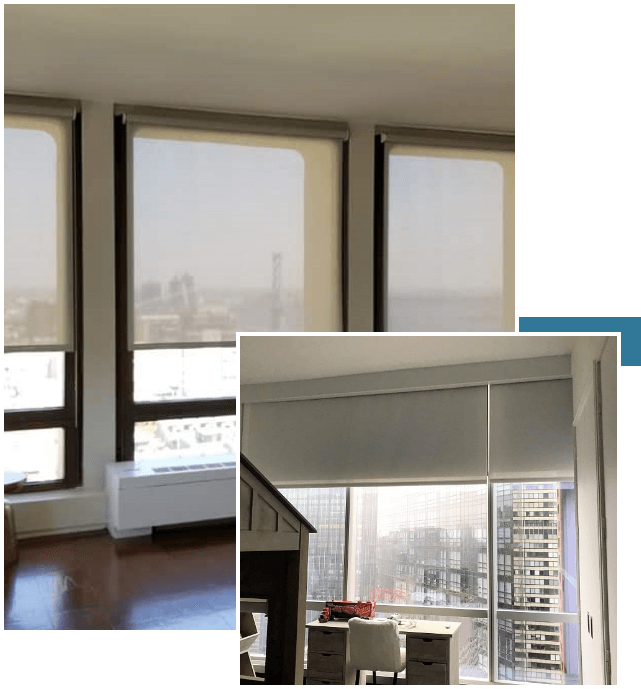 Roman Blind Installation Services in NYC
Why Choose Manhattan Shades for Motorized Shades Installation in NYC?
Manhattan Shades is known for selling the finest shades and best installation services. Our shades are of good quality and available with a reasonable price tag. We know it is an investment in your home. Therefore, we ensure our products reach the highest level of quality.
When you choose us, you get:
Our in-house operators are available 24/7, so you just give us a call anytime, discuss your needs and book your appointment in NYC.
How do motorized shades work?
Motorized shades work using a motorized system that allows you to open, close, or adjust the shades with a button or through a remote control.
Can I control motorized shades with my smartphone?
Many motorized shades offer smartphone integration. Using compatible apps or smart home systems, you can control your shades from anywhere using your smartphone or tablet.
Are motorized shades compatible with voice assistants like Alexa or Google Assistant?
Yes, motorized shades can often be integrated with popular voice assistants. With the proper setup and compatibility, you can control your shades using voice commands.
Are motorized shades energy-efficient?
Yes, motorized shades can contribute to energy efficiency. By programming your shades to adjust automatically throughout the day, you can optimize natural light and minimize heat gain or loss, reducing the need for excessive air conditioning or heating.