Silhouette Shades: The Perfect Window
Treatment Solution for a Stylish

and Functional Space
Call Manhattan Shades For Superior Quality Silhouette Shades For Your Residential & Commercial Properties
Upgrade Your Windows Today
and Enjoy the Benefit of Silhouette Shades

in NYC
Are you looking for a window covering that works well in any room of your house? Silhouette shades are becoming a popular window covering now because they provide privacy, light control, and style. Silhouette shades work well in any room of the house, from living rooms and bedrooms to home offices and kitchens. They also come in a variety of styles and colors, making it easy to find a shade that matches your home design. Manhattan Shades' silhouette shades are an elegant and practical solution for anyone looking to control the amount of light and privacy in their home. Call us and see our outstanding silhouette shades for your home, workplace, or business.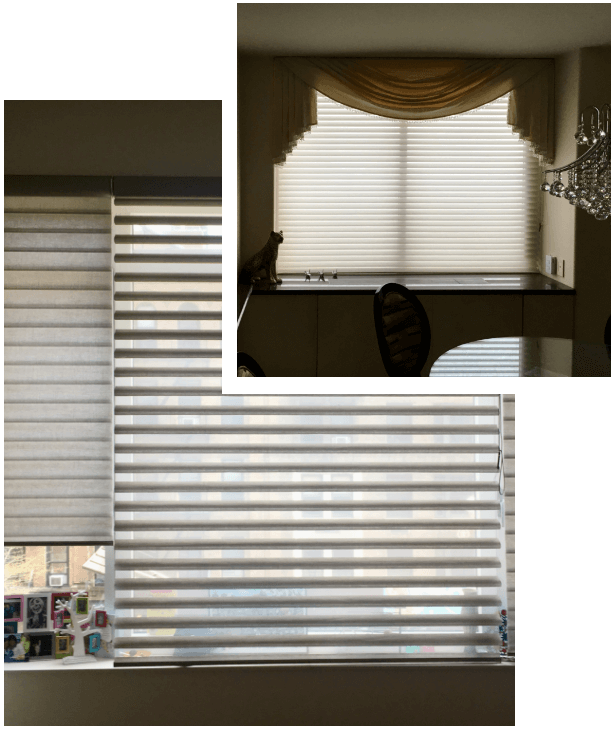 Why Silhouette Shades
Are the Perfect Window Treatment

for Every Home?
Silhouette shades are known for their elegant and modern look. They have a one-of-a-kind design that diffuses light, providing your house with a soft, natural glow. These shades offer excellent privacy when closed while allowing some natural light to filter through. Silhouette shades are also designed to protect your furniture and carpets from fading due to exposure to harmful UV rays. With motorized options available, silhouette shades are easy to operate If you're looking for a beautiful, functional, and energy-efficient window treatment option for your home, Manhattan Shades' Silhouette shades are definitely worth considering.
Transform Your Space with
Stunning Sheer Shades Installation

in NYC
One of the most significant factors that set silhouette shades apart from other window coverings is their operating system. Silhouette Shades offer a range of operating systems, each with unique benefits and features.
There is always an ideal operating system to meet your interests and requirements. Call Manhattan Shades to learn more about it, and we'll make suitable recommendations if necessary.
Roman Blind Installation Services in NYC
Why is Manhattan Shades

the Most Trusted Name in Silhouette Shades?
Manhattan Shades is committed to providing quality products that meet your needs and expectations. Our Silhouette shades are made using premium materials and undergo rigorous quality checks to ensure they are durable, functional, and aesthetically pleasing. We have a team of experienced professionals who are experts in the field of window treatments. We are always available to assist you in selecting the right Silhouette shade for your home or office and provide guidance on installation and maintenance. We offer competitive pricing, timely delivery, and excellent customer service. We value our customers and strive to establish long-term relationships by exceeding your expectations every time. Call now for an exceptional window treatment on your property.