Transform Your Space with
Stunning Sheer Shades Installation in NYC
Sheer shades are often known as sheer blinds. They combine the features of both traditional blinds and shades. Sheer shades are soft fabric suspended between two layers of horizontal fabric vanes. By adjusting the vanes, you can control the amount of light according to your preferences. Sheer shades are available in multiple colors, textures, and opacities. They are operated using a cord, wand, or motorized system. Need sheer shades Installation in NYC? Call us now.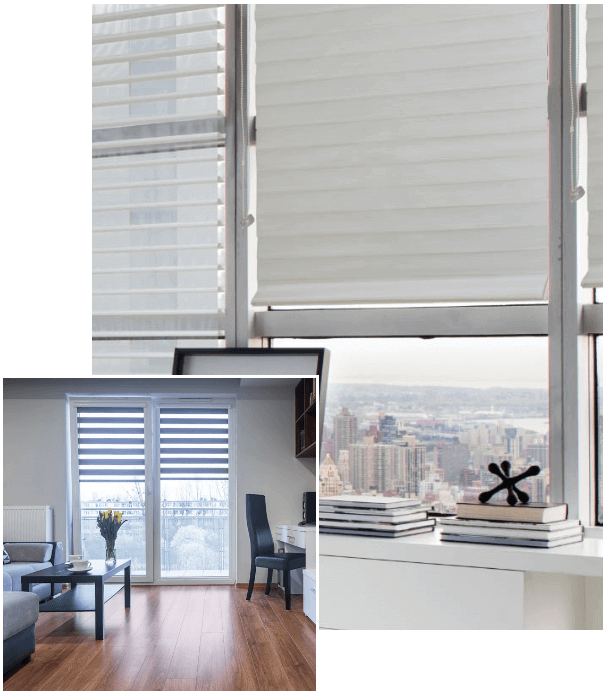 Functionality & Purpose

Of Sheer Shades
Why should you consider choosing our range of aluminum blinds? Check out a few reasons to understand how aluminum blinds in NYC become the perfect option for you.
For professional sheer shade installation, give us a call.
Why Choose
Manhattan Shades for Sheer Shades

Instalaltion in NYC?
The Value of
Sheer Shades

in the NYC
New York City is known for its towering skyscrapers and high-rise buildings. Sheer shades offer a valuable solution for managing natural light in these spaces. They create a comfortable environment in high-rise apartments and offices by providing diffused sunlight and maintaining your privacy. Privacy can be a concern in densely populated areas like NYC. Sheer shades can effectively balance privacy and natural light. They allow you to control their visibility from the outside world while enjoying a connection to the bustling cityscape. The reflective surfaces and large windows commonly found in NYC buildings can lead to issues with glare and heat gain. Sheer shades help mitigate these problems by diffusing sunlight and reducing heat. NYC is a city of vibrant and diverse architectural landscapes. Sheer shades of various fabrics, colors, and patterns allow residents of NYC to match their homes or offices. For professional sheer shade installation needs in NYC, give our professionals a call.
Frequently Asked Questions
Can sheer shades provide both privacy and light control?
Sheer shades offer a perfect balance between privacy and light control. By adjusting the position of the vanes, you can control the amount of light and outside view. When the vanes are open or tilted, you maintain privacy while enjoying natural light and outside views.
Are sheer shades energy-efficient?
Sheer shades can contribute to energy efficiency. The sheer fabric and vanes act as an additional layer of insulation, reducing heat gain during hot summers and heat loss during cold winters. This helps in lowering energy bills.
Can I customize the sheer shades to match my interior decor?
We offer a wide range of customization options for our sheer shades. You can choose from various fabric textures, colors, patterns, and opacities to perfectly match your interior decor and personal style.
How do I clean and maintain sheer shades?
Sheer shades are relatively easy to clean and maintain. Regular dusting with a feather duster or vacuuming with a brush attachment is usually sufficient. For deeper cleaning, spot clean with a mild detergent and lukewarm water, or consult the manufacturer's cleaning instructions.
Can sheer shades block out the sunlight completely?
While sheer shades provide some light control, they are not designed to block out sunlight entirely. When the vanes are closed, they provide privacy and reduce glare, but some amount of light will still filter through the sheer fabric.
Are motorized sheer shades available?
We offer motorized options for sheer shades. Motorization allows you to conveniently open, close, and adjust the vanes with a button or through a remote control.
Experience Sheer Shades Perfection in NYC "Contact Us for a Free Quote"
Choose us for your sheer shades Services in NYC. We will bring style, affordability, and exceptional customer service to your windows. Experience the difference of working with Manhattan Shades, which offers the best sheer shades services in NYC. Call us now.